MEXT program
Ministry of Education, Culture, Sports, Science and Technology - Japan
Program for Building Regional Innovation Ecosystem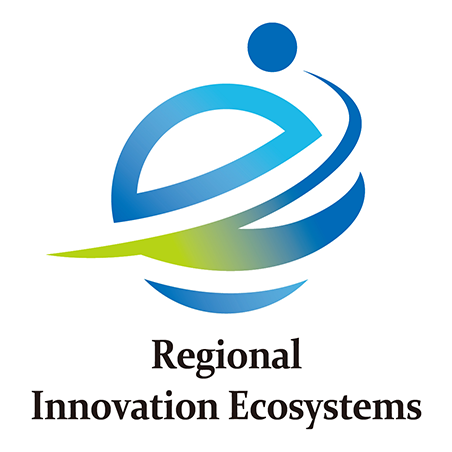 Theme: Building an "Organic-System Valley" in Fukuoka by transferring core technologies from Kyushu University
(since November 2016)
Integrating advanced technologies and highly skilled caliber individuals into the ecosystem to form an Organic-System Valley in Fukuoka Prefecture, where new businesses with high values will participate in the global OLED market sustainably.
Research projects and incubation
Framework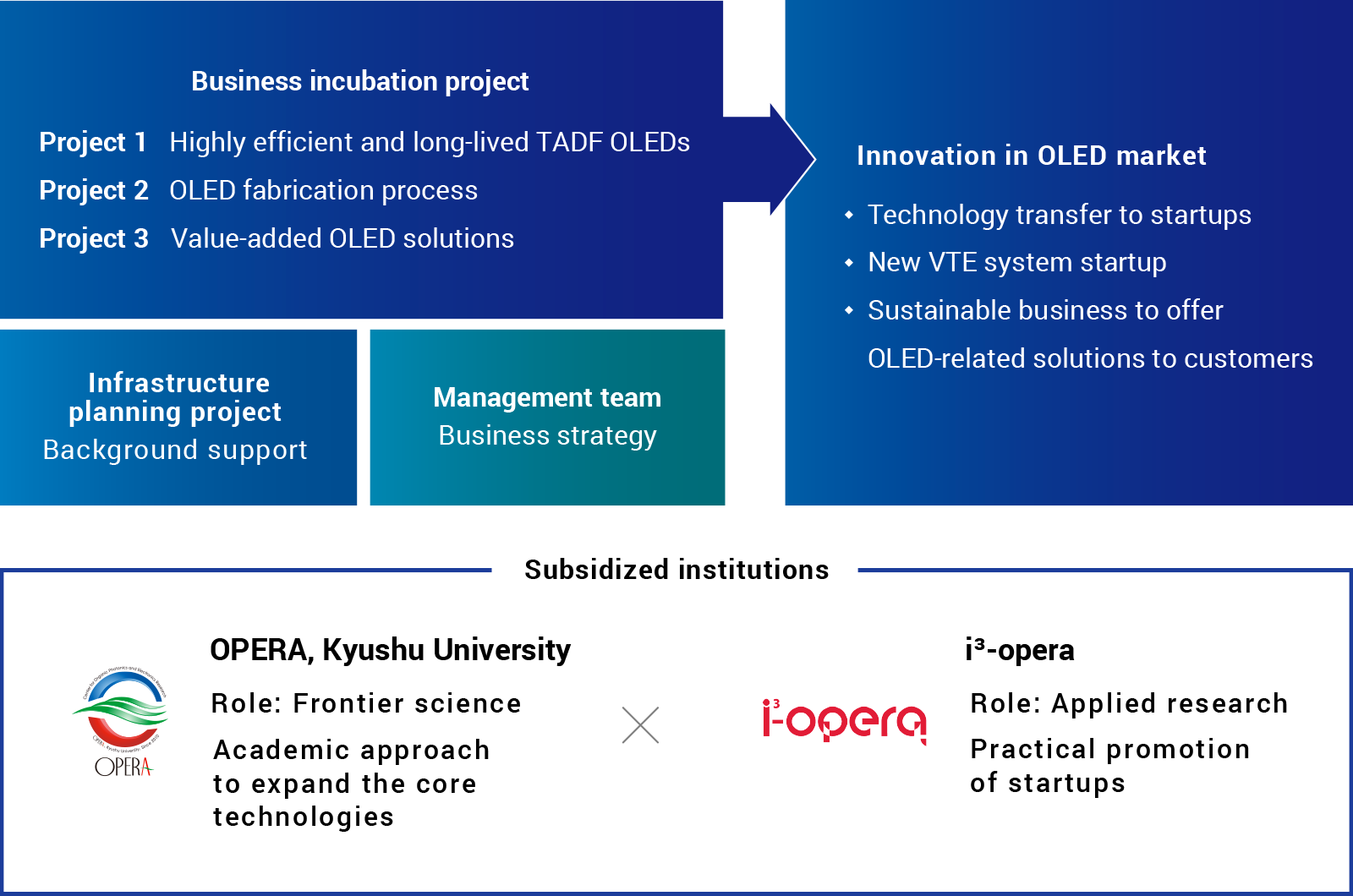 Business incubation project
Project 1
Highly efficient and long-lived TADF OLEDs
(OPERA, Kyushu University)

We aim to commercialize thermally activated delayed fluorescence (TADF) materials and devices by transferring the research outcomes to a startup company, Kyulux.

Project 2
OLED fabrication process
(i³-opera)

We will develop ultra-high-speed vapor deposition sources to benefit the high durability of the device and production throughput, thereby contributing to the expansion of the OLED manufacturing market.

Project 3
Value-added OLED solutions
(i³-opera)

We will expand our technology portfolio and evaluation platform for value-added solutions to meet the demands of the OLED market.
Infrastructure planning project
To build a sustainable ecosystem in Fukuoka Prefecture

In cooperation with the existing regional ecosystems, we aim to build a high-quality human ecosystem. We also hold international workshops and forums as a hub for facilitating business opportunities between academia and manufacturing corporations.

Technology incubation subject:
Air-stable cathode material
(OPERA, Kyushu University)

We develop novel cathode materials with both oxidation-free and low work-function properties and seek the possibility of practical applications in the electronics industry.
Management team
Our mission is to commercialize the frontier science outcomes from Kyushu University, which will be led by Fukuoka Prefecture. Using the regional infrastructure fostered through the growth of the semiconductor electronics industry, we aim to innovate, change paradigms, and create new value propositions in the organic photonics and electronics field.

Prof. Ryuichi Hayashi
Executive Program Director

The synergy of frontier science with applied research is the archetype of our value proposition. We aim to build an innovation hub, i.e., a high-quality ecosystem here in Fukuoka Prefecture, which is a technology-based and market-oriented business incubation matrix. Our door is always open to international and interdisciplinary collaborations. We look forward to a win–win partnership with you.

Dr. Kentaro Harada
Program Director